ANDREW CARNEGIE AND THE COLUMBIA OIL FARM
Introduction
The plan of this narrative is to relate the beginning of an oil company in Oil Creek Valley and the entry of Andrew Carnegie into oil investment. Because of the size of the acreage owned in fee and its favorable position in the geological province of the shallow, oil-laden Venango Sands, Columbia Oil Company under a very experienced management and with its skilled work force became a leader among companies operating in the Valley in 1861 onward. Overall profits of the company were impressive and so were the accomplishments.
The original farm was known as the William Story Farm which was renamed the Columbia Farm after a group of Pittsburghers purchased it and formed a company bearing the name Columbia Oil Company.
Columbia Farm has maintained its position as a place name through the years and can be found on USGS Topographic Maps. It became a town, now a ghost, and saw the scope of operations change after the Columbia Oil Company no longer worked it. Other companies such as Brundred Oil Company repressured the wells and even went on to make casing head gasoline sold under a brand name.
The author with others has explored the flats and flanks of Columbia Farm looking for artifacts and ruins of the Columbia oil days and has saturated the area with photographs. The original Columbia town and various other installations were replaced or removed over time so the buildings and ruins now found mostly date to operations of Brundred & Corse and the Brundred Oil Co. which were 1900's events (1907-1952). Quaker State bought out Brundred's holdings in the Valley in 1952. Then Quaker State sold its remaining shallow wells to Pennsylvania General Energy (PGE) in 1988. PGE is plugging the old wells on Columbia Farm.
In 1972 Columbia Farm became a part of Oil Creek State Park which has its headquarters in Petroleum Centre.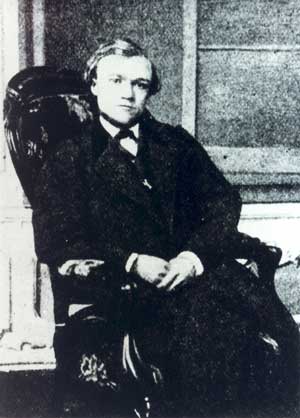 Andrew Carnegie (1835-1919). It is believed that he was 27 years old at the time of this photograph. He invested in Columbia Oil Company stock at this age and built enough capital from this investment and others to vigorously enter the iron and steel industry. Photo: Carnegie Library of Pittsburgh.