THE FIRST OIL BARGES
Early Bulk Boats
The first bulk transportation of oil in America was accomplished in wooden barges known as bulk boats. These were placed in operation on Oil Creek and the Allegheny River in 1861-62. The vessels were "decked over" to keep the contents from sloshing out. The deck also allowed the boatmen to better handle the sweeps and manage the barge. It was also quickly learned that the cargo space had to be fitted with a series of wooden bulkheads (baffles) so that the motion of the oil could be controlled.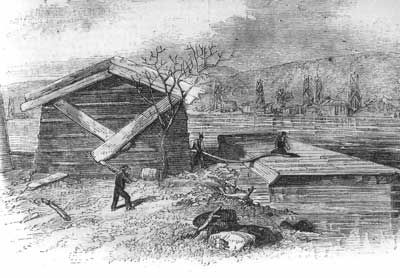 This simple bulk boat of 1862 was the progenitor of the modern tank barge (Way, 1942). Made of two inch plank, it would carry a 400 barrel load of oil down Oil Creek and the Allegheny River to the refineries at Pittsburgh. When emptied, some of the oil-sogged barges were broken up and used for kindling (Eaton, 1866). Illustration from Frank Leslie's Illustrated Newspaper, Jan. 21, 1865.
Oil Creek in Pennsylvania, the heart of the first American oil belt, is a shallow stream with many gravel bars and is studded here and there with boat-wrecking boulders at low water. Flat boats laden with barrels of oil and bulk boats of minimum draft required extra man-made surges of water to navigate to the creek's mouth at the Allegheny River in Oil City. The stream was a crowded waterway until frozen in winter.
Coal boats were in use on stretches of the Allegheny River and may have given the idea for building bulk boats to carry oil. Richard Glyde of Pittsburgh built bulk boats with several bulkheads in 1861 and was followed by Captain Jacob Jay Vandergrift of the steamer, Red Fox, who contracted the building of a fleet of bulk boats intended for use in Oil Creek and the Allegheny River. Vandergrift's first bulk boats were made of 2 inch plank and were 80 feet long, 14 feet wide and 3 feet deep which provided a capacity of 400 barrels each (Giddens, 1938). Compartments of perhaps 4 feet square were tried out. The Cap't put 12 bulk boats into service in 1862 and soon this type of vessel became a common sight in the new oil belt where many wells along the creek and river were so close to the banks that filling of the boat with crude oil could be handled directly from a flowing well or its stock tank. Another early builder of bulk boats was Amos Densmore who along with his brothers produced oil at Tarr Farm and shipped oil from Miller Farm, both on Oil Creek. Amos Densmore and his oldest brother James were later inventors of the first railway oil tank car (1865) and shipped in bulk via this means.