COLLECTORS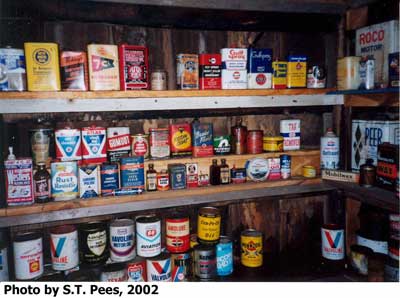 Display shelf in the replica of a filling station on the show grounds of the Ashtabula County Antique Engine Club, Rt. 322, Ohio. Photo by S.T. Pees, 2002.
Introduction
The oil memorabilia collectors are everywhere, especially in and around old oil fields and towns where the early refineries were, and they collect old oil cans (all sizes, full or empty), globes, gasoline pumps, tanks with brand names, signs (all manner of advertising), photographs, post cards with oil scenes, folding road maps (put out by major oil companies of the day), paper memorabilia, books, even complete gasoline stations (they move them), oilfield engines (they restore them), old drilling rigs (they put them in order), drilling and producing equipment (especially those huge wrenches), central powers (they load them on lowboys), tank trucks (they drive them) and just about anything else having to do with petroleum and its products. They sell, swap and display their pieces. There are organizations, clubs, societies, and they have annual and special meets. Auction houses put out elaborate catalogs, and the attendance is high and the bidding vigorous. The hubbub stirred up by the avid collectors has spawned magazines and books. Some antique shops specialize in oil industry artifacts. The industry is so huge that there is seemingly no end to collectible items. Fortunately there is a manageable history span to the industry, 1850's to present. Oil towns dot the map (many early ones are ghosts) and cans etc. are apt to be forgotten and blackened by dust in the corners of old garages or in the cellars. For those who are busy collecting oil memorabilia, especially material relating to the retailing end of the industry, finding an old, long locked general store or filling station with some merchandise and fixtures still left would be the "mother lode". The writer knew of several, but it's too late now, at least for those.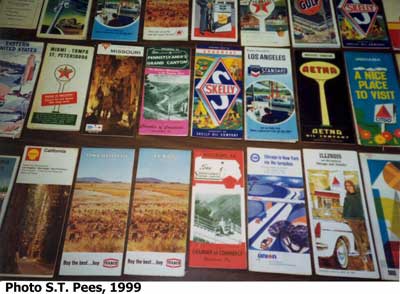 Part of S.T. Pees' road map collection. Dad and I always threw last year's road maps into a drawer. After years it was cleaned out and found to be the making of a collection.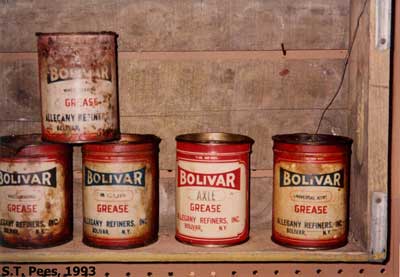 Various Bolivar greases canned by the Allegany Refiners, Inc. at Bolivar, New York. The cans are full. Photo taken in a small oil museum in Allenville, NY.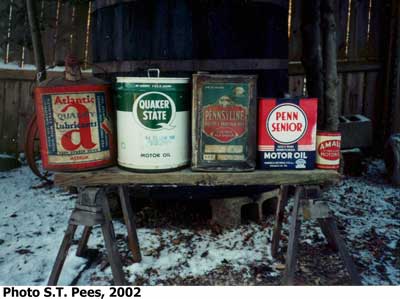 S.T. Pees' oil can collection. Not much to it.