OILFIELD ENGINE COLLECTORS – RESTORERS
There are a multitude of enthusiastic people who collect, restore and display vintage oilfield engines at shows. This subject has already been touched upon earlier in this book. The author now intends to write an occasional article about individual collectors who have current projects so that others can be aware of them and possibly share information.
A Franklin Valveless
In 2000 Mr. Gary R. Oleson Jr. of Goodman, Wisconsin, bought an old Franklin Valveless engine that had done years of service in the Butler County (Pa.) oilfields. He learned about it by an ad. Mr. Oleson couldn't really tell how big the engine was from photos he had received, but when it arrived in Wisconsin he exclaimed "WOW she is big! The fly wheels were almost 6 feet."
He writes that it is a 12x15, approx. 40 horsepower, and bears serial #3759. It is parked outside on the driveway, and a day doesn't go by that there isn't someone on the driveway to hear her run.
After mechanical restoration, Mr. Oleson painted it black and his Mom did the gold pin striping. It turned out beautiful. It was exhibited in Escanaba, Michigan and won Best of Show which he attributes to his Mom's art work.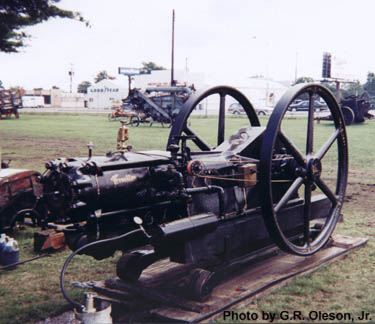 Mr. Oleson's 12x15 Franklin Valveless gas engine on show in Escanaba, Michigan in 2000.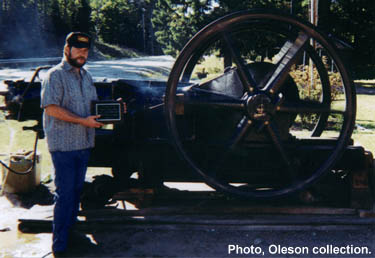 Gary Oleson holding the Best of Show plaque as he stands by his 40 HP Franklin Valveless engine in his driveway in Goodman, Wisconsin. Photo, Oleson collection.