Bucyrus-Erie
Bucyrus-Erie, like some other companies, acquired "builder's rights" to various machines such as one invented by Henry Kelly in 1867. The Kelly horse-powered rig was first built in Iowa by Kelly, Morgan and Company. Presumably the rig was later advanced to the portable type. Beginning in 1891 the Kelly rig passed to a string of owners which included the Armstrong Manufacturing Company (Armstrong rig) and ended (?) with the Bucyrus-Erie Company. This was only one of the Bucyrus-Erie acquisitions, but it gave a long history to this manufacturer of trailer and truck-mounted drilling rigs.
In the early 1960's Bucyrus-Erie had four popular spudder models all of which could be mounted on a semi-trailer. The power for the rigs was gasoline, LPG or diesel as ordered (gasoline power was considered standard). The particulars of these models were as follows:
36-L

28-L

60-L

22-W

Overall length
(mast down)

34'

32' 9"

30' 1"

26' 10"

Weight, mounted standard equip.

35,300 lbs.

21,850 lbs.

14,625 lbs.

9,750 lbs.

Mast height

54'

54'

48' 2"

40'

Recommended
cable size

7/8"

1/2"

3/4"

5/8"

Bull Wheel
Spooling capacity (working side)

4860'

3520'

2600'

1275'
The hoists for the masts were power driven. The bull wheels and calf reel were gear driven and the sand reel was chain driven except for the 22-W model sand reel which was friction driven. Models 22-W and 60-S were favorites of operators in the shallow oil fields such as Bradford, Venango and elsewhere where depths were from less than 1000 to 2500 feet.
Bucyrus-Erie made a special, five unit, steel tripod derrick for use with model 36-L when heavy casing loads were expected. Model 36-L could drill to over 4500 feet, quite a jump in depth over most of the older rig sizes and makes discussed in this chapter.
The Bucyrus-Erie rigs went everywhere the truck could go. They were the epitome of portable cable tool rigs in their day. Some rigs of the 1950's-60's and younger are still at work.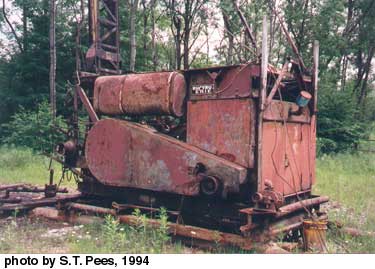 A skid-mounted Bucyrus-Erie workover rig in the Bradford field, McKean County, Pennsylvania. Probably a model 28-L. It is in working position at the well.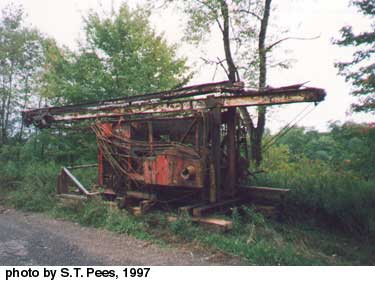 A Bucyrus-Erie rig stacked alongside a road. This rig was probably picked up by a crane and carried by trailer to the well location. Venango County, Pa.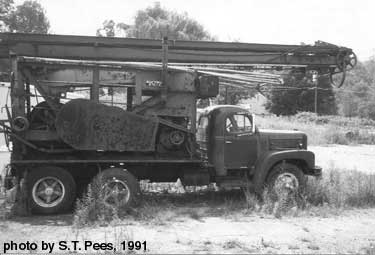 A truck-mounted Bucyrus-Erie rig in the Emerald Oil Company yard, Pleasantville, Pa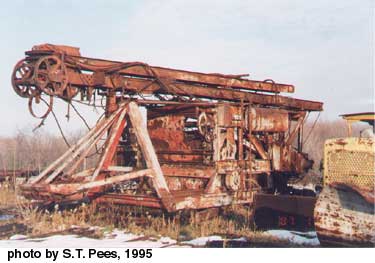 This Bucyrus-Erie rig as photographed in a pipe and equipment yard in Crawford County, Pa., would be lifted and transported by truck to the drilling site.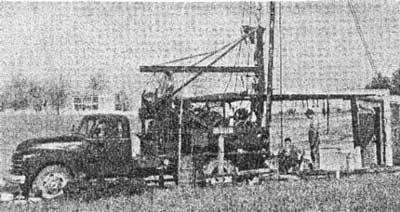 This is a 1960 Bucyrus-Erie model 22-W spudder made for shallow well work (1000 feet). It can be mounted on either a truck (as shown) or a semi-trailer. It is small, economical and highly portable. The mast (only partly shown) is 40' (extended). Illustration from Bucyrus-Erie's own write-up in equipment catalog assembled by World Oil for 1960-61.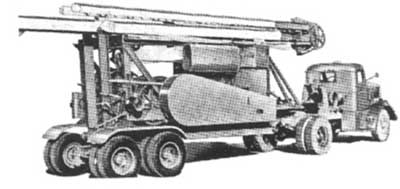 This is model 36-L, a relatively deep drill spudder, mounted on a semi-trailer and ready to move to a well location in the late 1950's. Illustration from Brantly, 1971.