National
In the 1890's the National Supply Company of Toledo, Ohio, began to make a semi-portable skid-mounted rig roughly similar to the Corbett rig. Brantly (1971) aptly described it as "a 'compressed' standard rig working under a mast rather than under a derrick". This wooden drilling rig was discontinued in the late 1890's but revived after 1900 with a change in the mast and other improvements. The new model had a folding A-frame mast and had a depth rating of 2500 feet. National advertised their 2500 foot rig with a catchy sales slogan, "The rig that displaced the old standard derrick". They called it a "heavy duty spudder," the same name that Star used. Other rig sizes with less depth capacity were also built by National.
According to Brantly (1971), the C.S. Wright patent of June 13, 1903, was the basis for the National rig. Of course, improvements and variations were made. A fully portable wheel-mounted cable tool rig by National was being produced by 1915 or slightly earlier.
National Supply Company's catalog #30 of 1921 is 2 1/2" thick and has 1092 pages plus 74 Roman number pages of introduction and general index. It speaks for a major supply and oilfield manufacturing company and is a valuable reference. Cuts from this catalog are used for illustrations below.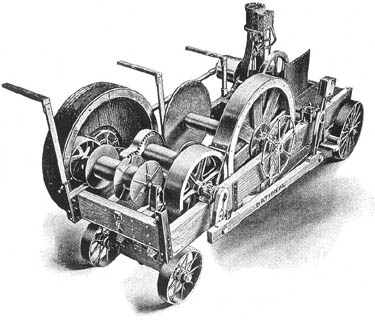 This view of a National portable wheel-mounted rig shows it stripped of wheel housing and with the mast and walking beam removed. The band wheel seems to have been of wooden construction as were the spokes of the bull wheel and the wagon bed. It had a vertical steam engine on board. From National Supply catalog #30.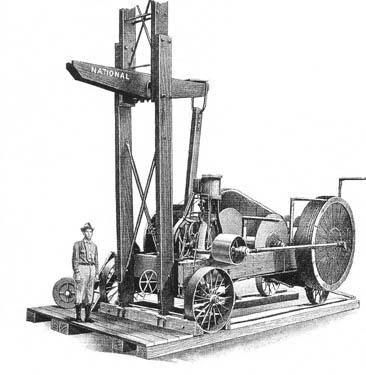 This mounted drilling machine with segment beam and wooden x-braced, ladder-type A-frame mast had a drilling capacity of 1600 feet. It was mounted on steel wheels. National Supply Co. stated that by "being well balanced, it is not necessary to anchor the rear wheels while drilling, or while raising or lowering the mast". The rig had a vertical steam engine. From National Supply catalog #30.